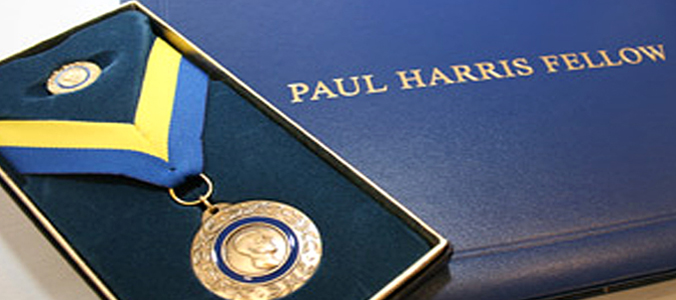 What is it?
Undoubtedly the most important step to promote voluntary giving to The Rotary Foundation occurred in 1957, when the idea of Paul Harris Fellow recognition was first proposed. Although the concept of making $1,000 gifts to the Foundation was slow in developing, by the early 1970's the program began to gain popularity. The distinctive Paul Harris Fellow Medallion, lapel pin and attractive certificate have become highly respected symbols of a substantial financial commitment to The Rotary Foundation by Rotarians and friends around the world. The companion to the Paul Harris Fellow is the Paul Harris Sustaining Member, which is the recognition presented to an individual who has given, or in whose honor a gift is made, a contribution of $100, with the stated intention of making additional contributions until $1,000 is reached. At the time the Paul Harris Sustaining Member becomes a Paul Harris Fellow. By early 1992, more than 350,000 Paul Harris Fellows and 150,000 Sustaining Members have been added to the rolls of The Rotarian Foundation. A special recognition pin is given to Paul Harris Fellows who make additional gifts of $1,000 to the Foundation. The distinctive gold pin includes a blue stone to represent each $1,000 contribution up to a total of $5,000 in additional gifts. Paul Harris recognition provides a very important incentive to the continuing support needed to underwrite the many programs of The Rotary Foundation which build goodwill and understanding in the world.
First but not First
Was Paul Harris the first president of a Rotary Club? No.
Was Paul Harris the first president of Rotary International? Yes.
There is an easy explanation to this apparent constriction. Although Paul Harris was the founder and organizer of the first Rotary club in Chicago in 1905, the man selected to be the first president was one of the other founding members, Silverster Schield. By the year 1910, there were 16 Rotary clubs, which linked up as an organization called the National Association of Rotary Clubs. A couple of years later, the name was changed to International Association of Rotary Clubs as Rotary was organized in Winnipeg, Canada, and then in England, Ireland and Scotland. In 1922 the name was shortened to Rotary International.
When the first organization of Rotary clubs was created in 1910, Paul Harris was selected as the first president. He served in this position for two years from 1910 to 1912. Thus, the founder of the Rotary idea, who declined to be president of the first club, became the first president of the worldwide organization, Rotary International.
The Clinton Rotary Paul Harris Fellow Recipients
Jim Beardsley *
Linda Beavers *
Andy Berliner *
Marcia Bird
Debbie Drouin *
Jack Eagan *
Linda Gworek
Thomas Houpert
Dick Mason
Rich Onofrio
Dee Tully *
Maria Varga *
Nelson Vincenty *
* denotes multiple awards
Non-Rotarian Award Recipients
Nancy Berliner
Amber and Dean Bierkan
Jenny Honan-Smith
The Valsamis Family (Leon's Pizza in Westbrook)